Welcome to the Darwin's Demons Wikia
Edit
In this arcade style space shooter, defend against an encroaching horde of evolving enemies. At the end of each wave, only the fittest enemies reproduce to create the next generation, causing the population to adapt to your play style. How long will you be able to survive against the Protean Swarm?
Describe your topic
Edit
Darwin's Demons models biological evolution using enemies with digital genomes. Enemies acquire fitness by being the most aggressive, accurate, and longest lived, and only the most fit enemies reproduce to pass their genomes on to the next generation. The result? The creatures you found hardest to kill have all the babies, making each generation more challenging than the last!
Latest activity
Edit
Photos and videos are a great way to add visuals to your wiki. Find videos about your topic by exploring Wikia's Video Library.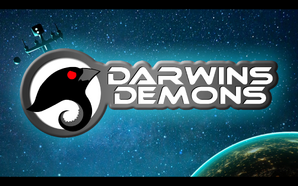 Ad blocker interference detected!
Wikia is a free-to-use site that makes money from advertising. We have a modified experience for viewers using ad blockers

Wikia is not accessible if you've made further modifications. Remove the custom ad blocker rule(s) and the page will load as expected.